How to Self-Publish a Book: 5 Step Guide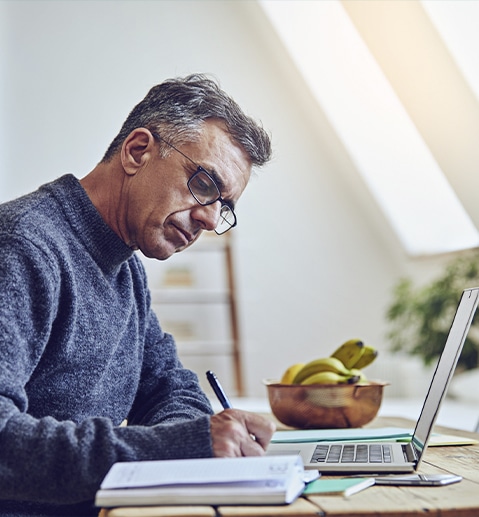 The task of publishing a book can be daunting, especially if you don't know many people in the industry or struggle to query agents on your brilliant book that simply hasn't found its champion.
You've done the research, developed an idea for a book that you're sure will be marketable, identified your audience and you're cooking on your manuscript. What now? How to self-publish a book so your book gets from your hands into the hands of readers and out in the world?
If you've considered all the pros and cons and have decided your manuscript is bound for publishing on your own terms, then here's a look at the 5 main steps you'll take to get it out into the world.

The Pros and Cons of Self-Publishing a Book
First, let's discuss some of the advantages and disadvantages of self-publishing a book that you should consider. There are pros and cons to both traditional and self-publishing, and which route you choose largely depends on how you operate.
If you're able to fund the upfront costs and can manage treating your book like what is essentially a small business, you might go for the self-publishing option, as it provides you with all the creative freedom you'd want, and the ability to choose who is involved in every step of the creation of your book
Traditional publishing comes with more pressure and deadlines, but the business end of things is handled for you. The question of rights to your work is another reason many folks go for self-publishing as well as increased royalties.
Finally, there is some stigma attached to self-publishing, but one needs to look no further than The Martian by Andy Weir or Margaret Atwood's first published work titled Double Persephone to see that the water's just fine. This stigma is rapidly declining as more and more authors choose to be independent publishers.

5 Steps to Publishing a Book
Overview
Writing
Editing
Designing
Marketing
Publishing
Step 1: Write Your Book
We've already made a reference to this step, but since it's such a crucial part in the process, it requires reiteration. Write. That. Book. Plan it, research, outline, and get the words down. Decide who that book is for and what you need to say, and produce something that makes you proud.
Discipline is required to get this done, and there are myriad ways to achieve your first manuscript's completion. Setting daily word count goals, creating new rituals or habits, and finding people who can keep you accountable works for many. You can tweak and work a draft, but before that can happen, you need to actually have a draft written down.
Tip: Get feedback while you're writing. Writing circles are great for this, but tapping into friendships works for many as well. This is also a good way to float titles if you haven't settled on one before you move on to the next step.

Step 2: Edit Your Book
At this stage, you'll have a few options. Hiring an editor costs money, and depending on the sort of book editing you want is how much you'll be shelling out. Your search for an editor might take a while, depending on the sort of fit you'd like to find, too.
Maybe you'll give them a few chapters for a trial run, or maybe you'll go all in. Maybe you just need someone to fix grammar and punctuation, or maybe you want more feedback on plot structure and tone. Your needs can be met by choosing a publishing service such as Palmetto Publishing or finding an independent editor who will get the job done.
Tip: Start thinking about how you're going to publish this book and with whom. There are loads of different services out there that fit different needs and budgets. Consider whether this is going to be digital-only or digital and physical, and start shopping around.
Step 3: Book Design
Your book's design is more important than most folks realize. Working with a book cover designer to find the perfect presentation is important, because as much as we love to say "don't judge a book by its cover," we still do. The design stage also includes the book's back cover and interior elements, such as the font and typesetting, the layout of each page, and any images or illustrations which appear in the work.
If you're publishing digitally, formatting is especially important so folks can read your book as intended on a wide range of devices. If you're printing physically as well, there are other elements to work on such as the book's spine, page trim, and other physical aspects such as paperweight.
Tip: Don't forget to register copyright and obtain an ISBN! Also: decide on book pricing.

Step 4: Marketing Your Self-Published Book
By the time you've got some proofs and you're getting ready to open pre-orders, you should have a website for the book as well as a marketing plan. It should involve the use of social media, online and/or in-person author events, reaching out to booksellers, and sending promotional materials to the press. Send out review copies, make an event out of the "cover reveal," and get your book listed at different retailers.
Write up a press release if you can, hire a professional if you can't, and get the word out there. Remember when we said to treat your book like a small business? This is a step that can also be outsourced to a one-stop professional publishing service such as Palmetto Publishing.
Just don't sleep on it – sales and algorithms are going to place your book into categories once they hit retail, and sometimes that won't necessarily be your intended audience, so this is your first opportunity to make it visible to the crowd you're after.
Tip: This step doesn't end when your book is published – it's ongoing. Find a groove that works and is sustainable for the long-haul.
Step 5: Publish Your Book
At this stage, your selected publisher will put your book to print, and it's time to distribute. This is one of the tougher steps in the process, and your experience varies upon your level of engagement. You can outsource ebook distribution or you can do it yourself for a little more profit, but then that means dealing with each retailer individually.
If you're printing your book physically, print-on-demand distribution comes with its own crossroads as well, depending on whether you want your books to go to brick-and-mortar shops or just sell online. You could even turn your home into a small distribution center. Choose what's right for your book and your budget.
Tip: You don't need to shell out a lot of money for the privilege of having your print book at a physical bookstore, but most importantly, you don't have to be at thousands of bookstores. Find local bookshops and places that support independent authors!
Self-Publish a Book Today
The rate of self-publishing increases steadily each year, and for good reason. The traditional publishing industry has gone through and is continuing to go through changes that often make it difficult for new authors to break in.
There is no better time to take control and release stories when they're meant to be out in the world, rather than waiting years to see it on shelves. And as with examples mentioned earlier, a self-published book can take you anywhere and open all sorts of opportunities, including a path to traditional publishing if that's what you desire. So why wait? Contact Palmetto Publishing today to get started.